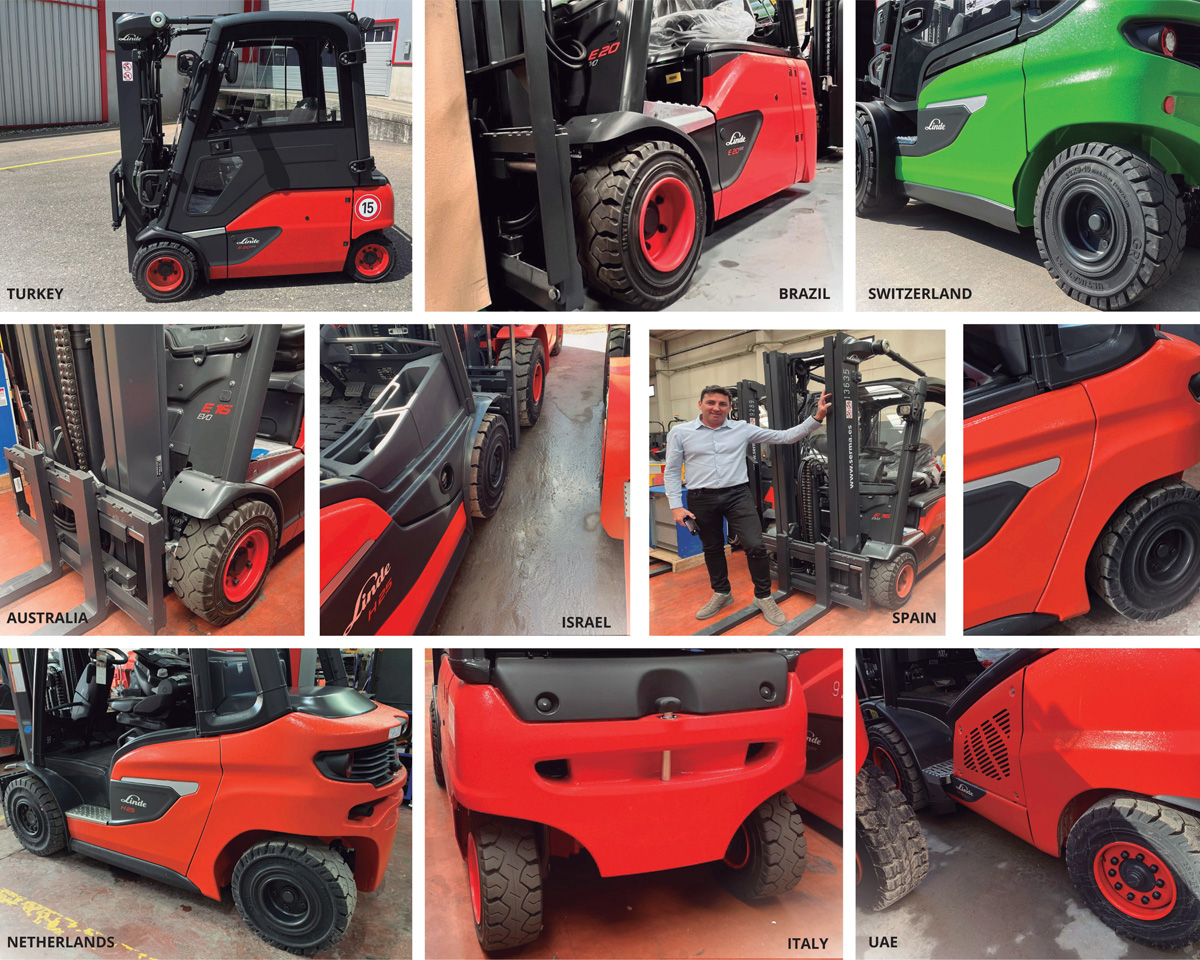 ULTIMATE XT on new LINDE forklifts now available worldwide
Posted on 01 July 2022
The KION Group has been fitting GRI's premium plus tire, the ULTIMATE XT, on their brand new LINDEforklifts produced in Aschaffenburg, Germany since 2021. These advanced LINDEforklifts have been shipped across the world. They have been received by LINDE dealers, distributors, and customers throughout Europe, in Asia, the Middle East, and in the Americas. GRI is honoured that LINDE customers across the world now have new forklifts with ULTIMATE XT tires and is proud to have expanded its presence in world-class OEMs with KION.
The partnership with KIONtestifies to the excellence of GRI's tires, their high performance in diverse conditions and the company's commitment to developing superior forklift tires.GRI's ULTIMATE XT premium plus tire is suited for the most demanding conditions in the material handling industry. Its unique tread pattern provides excellent traction and its structure ensures high stability. The tire's distinctiveness lies in the special compounds used, leading to reduced heat build-up, higher run-time, and lower rolling resistance. The ULTIMATE XT premium plus tires are built for 24-hour material handling operations. The high tread volume, greater lug depth and optimized aspect ratio provide extensive tire life.
The KION Group is one of the most prestigious and largest manufacturers of forklift trucks and warehouse equipment in Europe and provides supply chain solutions to more than 100countries worldwide. "We are proud to be supplying our ULTIMATE XT premium plus tires to KION for their new LINDE Material Handlingforklifts, produced in Germany. It is indeed a testament to the superior quality of GRI tires," said Mr Prabhash Subasinghe, Managing Director, GRI.
"The ULTIMATE XT solid tires are manufactured using advanced compounds made primarily from natural rubber sourced from farmers in Sri Lanka. The tires are produced at our advanced production plants to the highest quality and standards. It is indeed an honour that our Sri Lankan manufactured tires can be seen in LINDE forklifts around the world," states Dr. Mahesha Ranasoma, CEO, GRI.